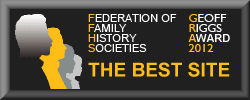 FIBIS is pleased to announce that this weekend not only did its website win first place in the Large Society category of the FFHS Geoff Riggs Award for the second year running, but it also won the overall award of Best Site.
We would like to take this opportunity to thank not only the FFHS and ABM Publishing for this wonderful award, but also all the volunteers who work hard transcribing records and contributing data to go on our website to help others. Without all their hard work and contributions this website would not be the excellent hub of all data relevant to India and South Asia during  British period that it is.
Previous Awards
2008 – Best Site in Specialist Category
2009 – Commended
2010 – First place in Small Society Category
2011 – First place in Large Society Category
2012 – First place in Large Society Category and The Best Site winner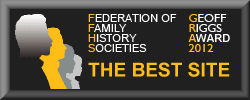 New developments coming soon
FIBIS is always looking at ways to further develop and improve it's website.  Not only do we want to be a useful research  resource,   but we want people to enjoy the world of British India family history as much as we do. As such, I am pleased to announce that I have spent the last few weeks not only working on improvements to the existing FIBIS website, but also working on a new and exciting addition to the FIBIS website family.  The project is nearly completed and I will hopefully be posting further details within the next few days.
Watch this space ……..